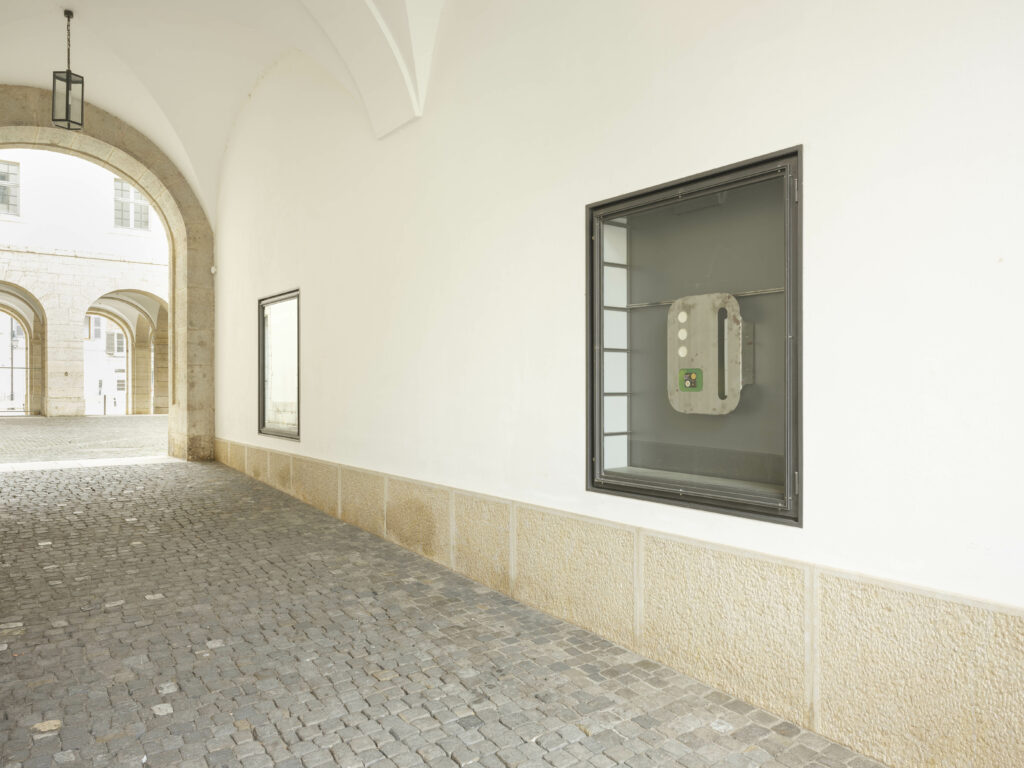 photos : Sebastien Verdon
Baker Wardlaw
quartz crisis
eac (les halles)
Porrentruy, JU
mirror – wood, hi-visibility paint, variable dimensions, 2023
standard measure of authenticity – industrial marker, unprimed canvas, 140 x 900cm, 2023
[]chain []game – acrylic and screenprint on unprimed canvas, 300 x 300 cm, 2023
the partners – cast bronze, 10 x 22 x 32 cm, 2023
protocol – cut and folded metal, plexiglas, printed circuit board, graph paper, candle, hardware, 45 x 60 x 10 cm, 2023
EN
In the beginning man's mind was formless; filled with fantasy and intensities; localized and individualized rhythms, histories and truths. Life was a series of seasons and cycles, days were a series of events that comprised the cycles. Time was atomized, individualized, personal.
Mechanical timekeeping is a technology that converted the continuous uninterrupted experience of life into discreet units, capable of being measured and counted which means it can then be saved, spent, wasted, exchanged, evaluated and ranked; each discrete element capable of being optimized and commodified.
The exhibition takes its name quartz crisis from an economic and technological crisis in Switzerland from the period spanning roughly 1975-1985 in which the arrival of the quartz time keeping mechanism threatened to replace traditional mechanical timekeeping mechanisms, and with it the industry and way of life of watchmakers. This crisis led to layoffs, bankruptcies and eventually massive government intervention, and reorganization of the industry.
Naomi Klein said "Capitalism thrives on crisis. It is not a system that eliminates problems but one that manages and exploits them." On closer inspection, it seems that crises – times, points, moments, of intense difficulty or danger – aren't a state of exception but the norm, and that time is once again atomic, individual and personal; people living, working, buying, selling, partying on their own hours, but this isn't a time that belongs wholly to the individual; as before; it is, in large part, directed, influenced, shaped and captured by algorithms operating on behalf of the attention economy and platform capitalism.
What follows is an incomplete list of several recent/ongoing/past crises.
[ ] crisis – climate, eurozone, financial, housing, identity, mental health, migrant, mid-life, opioid, sanitary
FR
Au début, l'esprit de l'homme était informe, rempli de fantaisies et d'intensités, de rythmes, d'histoires et de vérités localisées et individualisées. La vie était une série de saisons et de cycles, les jours étaient une série d'événements qui composaient les cycles. Le temps était atomisé, individualisé, personnel.
Le temps mécanique est une technologie qui a converti l'expérience continue et ininterrompue de la vie en unités discrètes, capables d'être mesurées et comptées, ce qui signifie qu'elles peuvent ensuite être économisées, dépensées, gaspillées, échangées, évaluées et classées ; chaque élément discret est capable d'être optimisé et transformé en commodité.
L'exposition tire son nom de la crise du quartz, une crise économique et technologique qui s'est déroulée en Suisse entre 1975 et 1985. L'arrivée du mécanisme de chronométrage à quartz a menacé de remplacer les mécanismes de chronométrage mécaniques traditionnels, et avec eux l'industrie et le mode de vie des horlogers. Cette crise a entraîné des licenciements, des faillites et, finalement, une intervention massive des pouvoirs publics et une réorganisation de l'industrie.
Naomi Klein a déclaré : "Le capitalisme se nourrit de la crise. Ce n'est pas un système qui élimine les problèmes, mais un système qui les gère et les exploite". En y regardant de plus près, il semble que les crises – les périodes d'intense difficulté ou de danger – ne soient pas un état d'exception mais la norme, et le temps est à nouveau atomique, individuel et personnel ; les gens vivent, travaillent, achètent, vendent, font la fête à leurs propres heures, mais ce n'est pas un temps qui appartient entièrement à l'individu ; comme auparavant, il est en grande partie dirigé, influencé, façonné et capturé par des algorithmes opérant au nom de l'économie de l'attention et du capitalisme des plates-formes.
Voici une liste incomplète de plusieurs crises récentes, en cours ou passées.
crise [] – économique, climatique, identitaire, du logement, des migrations, des opïoides, de la quarantaine, sanitaire, de la santé mentale, de la zone euro